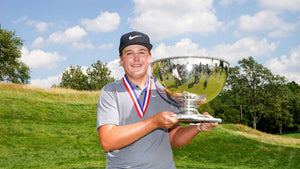 7 Lessons from the New U.S. Junior Am Champ
Preston Summerhays' U.S. Junior Amateur Championship was recently highlighted on Golf.com where they discuss his success and elaborate on how other young, inspiring golfers can learn from him. The excerpt below is from said article:
"A golfer by the surname of Summerhays made headlines last week, but anytime that happens, more details are required. In this instance, it was Preston Summerhays, who won the U.S. Junior Amateur Championship on Saturday, two days before his 17th birthday.

The win established Preston, a native of Utah who now lives in Arizona, as the latest branch to flower on a golf-rich family tree. His great-grandfather, Pres, was a golf coach at the University of Utah. His father, Boyd, is a former PGA Tour pro-turned-instructor, whose students include Tony Finau. There's also Preston's uncle, Daniel, who made nearly $9 million in eight seasons on the PGA Tour (2011-2018) and now competes on the Korn Ferry Tour; his great-uncle, Bruce (three-time winner on the PGA Tour Champions); his aunt, Carrie (once an LGPA Tour pro; now a coach at BYU); and his 15-year-old sister, Grace, who is competing this week in the U.S. Girls' Junior in Wisconsin with Preston on the bag."

- Josh Sens
To read the full article and see videos about his father, Boyd, follow the link over to Golf.com now!
---