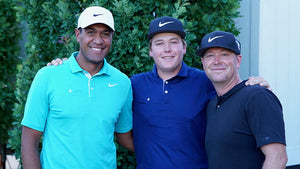 Tony Finau and the Summerhays Family
In a recent article over at PGA Tour, writer Sean Martin talks about he unique connection between PGA Tour Champ Tony Finau and the successful Summerhays family.
"A trip to Australia and the opportunity to represent one's country aren't the only perks for the participants in the Junior Presidents Cup. The 24 players on the U.S. and International teams get to interact with the elite players who will compete in this year's Presidents Cup, set for December at Royal Melbourne.

While many juniors will be meeting their heroes for the first time, Preston Summerhays is accustomed to being around the PGA TOUR's best. That's what happens when your father is a former TOUR player and successful swing coach. Preston, the reigning U.S. Junior Amateur champion, already knows several of the players who will compete for captains Ernie Els and Tiger Woods.

Summerhays' father, Boyd, was once the top-ranked junior in the country. He played college golf at Oklahoma State, where his teammates included Charles Howell III and Bo Van Pelt, and played 29 events on the PGA TOUR from 2004-06 before injuries ended his career. Now he is the instructor for Tony Finau, Scott Harrington and Wyndham Clark.

Golf success runs in the Summerhays' genes. The family has featured multiple generations of successful players. Preston and his sister, Grace, who advanced to the Round of 16 at the U.S. Girls' Junior, are continuing that tradition.

Preston is waiting to see if the TOUR player with whom he has the closest relationship, Finau, also will be in Australia in December. Finau FaceTimed Preston shortly after that U.S. Junior. Am win. They've played hundreds of rounds together. Preston calls him "a great influence" on his career."

- Sean Martin
To read the entire article, head on over to PGA Tour's site now!
---