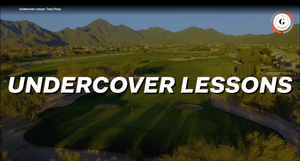 Undercover Lessons with Tony Finau & Coach Boyd Summerhays
Recently, Boyd and Tony Finau were featured in a segment from Golf Digest's Undercover Lessons series. The following excerpt is from the article:
"Tour players and their teachers have their own unique way of communicating and working together. With "Undercover Lessons," you get to eavesdrop on that world. Here, Tony Finau and his coach, Boyd Summerhays, slip on the mics and let us join them at the range. Their focus: driving. Tony ranked fourth on tour in 2018 in driving distance (315.1 yards).

In 26 minutes on the practice tee, you'll understand why the driver is Tony's favorite club. Watch him launch ball after ball into the stratosphere, then check out the radar stats and hear the breakdown of each shot. Tony and Boyd's discussion along the way includes shaping shots, increasing clubhead speed and hitting tight fairways. You'll learn the subtleties of alignment and setup and the keys to starting the ball on line and controlling the amount of curve. You'll also hear about the one shot Tony really wants to incorporate into his game and how he prepares for actual tee shots coming up on the PGA Tour.

With full access to Tony's process, you'll appreciate what it takes to drive a golf ball 350 yards—and keep it in the fairway. It's an insightful look at two pros at the top of their games."

- Golf Digest
To read more and watch the entire video, follow the link over to Golf Digest!
---